Make English literally unforgettable with the Genki English EFL / ESL Songs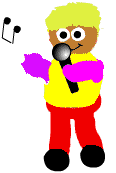 Have you ever had a Top 40 song stuck in your head all day?
Imagine if there was a trick like that for every piece of English you'd like to teach ….
Songs are always said to be one of the best ways to teach English. But I always found that most English songs were way too difficult for younger learners, took ages to teach and often contained lyrics that weren't very useful. How often have you used "twinkle, twinkle" in a conversation?
I also found that my kids were forgetting everything by the next lesson. So I simply took the target English of my lessons and made them into fun, catchy songs with actions and really addictive melodies. The kids loved them and remembered the English! 
These songs have been featured on TV, radio and in countless classrooms all over the world. The British Council have licensed them and the Thailand government has put them into every school in their country. "The Last Samurai" movie star Koyuki even used them in her TV series!
Each song has its own dance or game or can be combined with any of the game ideas on this site to make English really come alive. They are a great way to introduce new ideas, to review lessons or even spice up a boring textbook.
"After only 45 minutes of high-paced, nonstop fun using games, original songs and role-play techniques, the children are already beginning to use English effectively." – Japan Times (writing about Genki English lessons)

  Pronouns: I, you, he, she, we are happy
I'm sorry!
I like animals
I like (superhero!) vegetables
Do you have any pets?
Animal Voices
Baby Rabbit Family
Baby Monkey Family
Do you have any brothers or sisters?
Under the sea
Head & Shoulders
Make a Face
 Let's make a monster
Doctor, Doctor! Body Parts
Baby Monkey's Winter Clothes
Baby Monkey's Summer Clothes
Treasure Adventure
How many … do you have?
How much?
Numbers 13 to 20
Rocket Launch: Numbers 10 to 100
Shapes!
Fruit Market
Can you speak….?
Come on, Come on!
I can do it!
Where are you from?
Where do you live?
How do you say ?
 I am a robot
Mr Octopus
What time is it, Mr Wolf?
What time is it? Part 2
Summer sports / simple past
Winter Sports
What sports do you play?
When is your birthday? + Months of the Year
How did you get here?
Colours & Pirates
What's your favourite colour?
What's your favourite flavour?
What's your favourite subject?
 What's your favourite … ?
Where are you going?
Eat! Drink! Dance!
What are you doing?
What do you want to do?
What do you want to be?
What do you do?
Excuse me, are you…?
Adjectives: I have a question!
Adjectives: More questions
Adjectives: It's not bad, it's good!
 I'm thirsty!
What would you like for breakfast?
Ordering Food from A to L
Ordering Food from M to Z
Bigger Please
Days of the week
When, When, When?
Creepy Crawlies
Prepositions: Where is the spider?
Prepositions: Where is Mr Monkey?
Where is Baby Monkey?
 Look at me!
What do you think of … ?
Get well soon!
Stationery 1
Stationery 2
 Phonics "i" song
 North, South, East, West
Phonics "u" song
Whose is it?
Baby Dinosaur, what did you do?
Yes, I can!
Easter Egg Hunt
Who is in the haunted house?
Happy Halloween
Skeleton Soup
Apple Bobbing
Trick or Treat
What do you want to be for Halloween?
Thanksgiving
Gingerbread Man
Decorate the Christmas tree
Christmas shapes
What colour is Christmas?
Let's build a house
Let's build a gingerbread house
 Let's build a snowman
Where are the Christmas presents?
Genki Christmas
What would you like for Xmas?
Happy New Year!
Get all the volumes in the
super new instant Teacher's Set Download Pack!
Or try the Hip Hop songs for High School / Adult Learners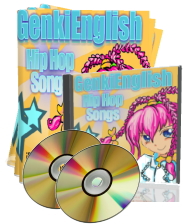 Better than the best
If you had a million dollars…
Excuse me, where's the … ?
Have you ever …
Dream Holiday
I have to … I can!
How you doing?
What shall I do today?
Hobbies / free time?
For Instant Access, try the new
Teacher's Set Download Pack


Don't forget the FREE Downloadable picture cards for each theme + Free access to the VIP Owners Club with the Instant Download Pack!
Have a try in your lessons.
These are very special & fast songs. So to get the maximum effect, follow the 3 step plan.
1) Teach the new words.
2) Teach the song "a capella" (no music)
3) Introduce the Genki music with the animations
But it's not just singing. Each song has gestures or actions to make them even better. Click the song titles to the left to see the lesson plans or try the free sample.
---
Here's what other people say:
"Taking Primary Schools by Storm" – Daily Yomiuri Newspaper
---
"I have used Genki English in my ESL classroom in Indiana and am still using it now to Teach English in Taiwan!  Kids love it!" – Jill   
---
"Creating a sensation in English education" – NHK World TV
---
"I have been using Genki English for about a year now and I must say it is the best I have found available for teaching young children.  The CDs are so lively which the children just love and of course at the same time they are learning English – wouldn't miss them!" – Christine, Germany

Picture cards, mini cards and worksheets
If you order the Teacher's Set, you not only get the animations, songs and mini lessons you also get access to the "VIP Owners Club" area of this website. Here you'll find 1000s of A4 picture cards, "mini cards", extra worksheets, extra audio files and even bonus themes and songs to download.
---
"I love the Genki English flashcards. But more importantly, my students love them too!"  – Mark
---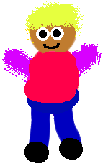 Groovy "Be Genki!" Software
You get the mp3 songs, audio "mini lessons" and karaoke versions of the songs.
But you you also get interactive pronunciation guides, illustrated mini lessons, illustrated songs and computer games.
The kids can learn the meaning of the words by moving the mouse over them, hearing them pronounced and seeing how the graphics respond. This is great if you teach in a school and wish to use the computer room (this is the Playstation generation after all!) and for private lessons putting the kids on the computer is a refreshing break in the lesson. The games and pronunciation guides also mean kids can learn at home ( they are great as homework ). For teachers who aren't confident in English they are also an amazing help. If you're lucky enough to have an interactive smartboard Genki English is the perfect accompaniment.
---
"Genki songs really help with learning new vocabulary and make it really fun. Kids are always asking to redo the songs." – Carolyn, Corsica France.
---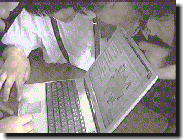 The kids remember
These songs have really strong melodies – they'll stick in your head all day. The cool thing is that the target English gets stuck in there as well, it's great to see the kids singing the songs on their way from school.
The software is a great way for kids to practice the English used in the songs. The best thing is that kids  learn at their own speed, there's nothing stopping one of your kids playing the phrase "it's rainy!" a million times, until they get it right. It's also a brilliant way for them to practice English as homework – only this time it's fun!

---
"Genki English songs are so catchy, even I…the teacher… can't get them out of my head." – Danielle, Japan
---
Saves you time

These songs really work, that's why they are used by thousands of teachers all over the World. The key is it saves you time and gives the kids a goal in each lesson. The target English is decided, the games, activities and gestures are suggested and there are even free flashcards for most of the songs on the website. This is the way to get your students motivated, remembering the English and wanting to learn more!
---

"Genki English is not just about Elementary School. My Kindergarten Teacher trainees love the songs….They get right into the actions and singing the songs in class. Also, my kindy kids get so excited when I put on Genki English …It's great! Thoroughly recommended." – Wendy, Japan
---
---
Getting your school to pay
Whilst many teachers pay for Genki English from their own pocket, and are very happy doing so, many others have it bought for them by their school. We can provide email receipts to any country.
If you're in Japan, sometimes schools only deal with their local "gyousha" or school supplier. We have connections with gyousha in every prefecture, simply ask your school to get in touch. Usually when schools say "we have no budget" what they really mean is that they don't know how to describe the problem of only being able to buy from approved "gyousha". Mrs Abe is our lady to speak to (in Japanese Tel: 0898-48-0256) and she'll sort out all the paperwork. In Japan we also have bank transfer payments available for elementary schools and can provide all the myriad of different receipts that schools and boards of education often require.
Student Discounts
Or if you would like to order the songs for your students, check out our Homework Programme.
Your Support
If you have any questions or problems I will do my best  to provide you with as much information as I can to make your lessons as effective and fun as possible. Simply contact me with any questions or problems. There are also lesson plans ideas available for nearly all the songs – click on the song titles at the top of this page. Also check out the VIP Owners Club. The packs are how we fund this website, so we want to make sure that you enjoy teaching with your Genki English as much as we do!
Buy the Teacher's Set and give your kids a really fun lesson!
Thanks and good luck!
be genki,
Richard
"Genki English?  Don't even think about going near a classroom without it." – Chris, Okinawa