The Halloween and regular Squares games were a huge hit. Β So here's a fantastic Christmas version!
As usual the cool thing is that it lets you review lots and lots of lessons without needing lots and lots of printing!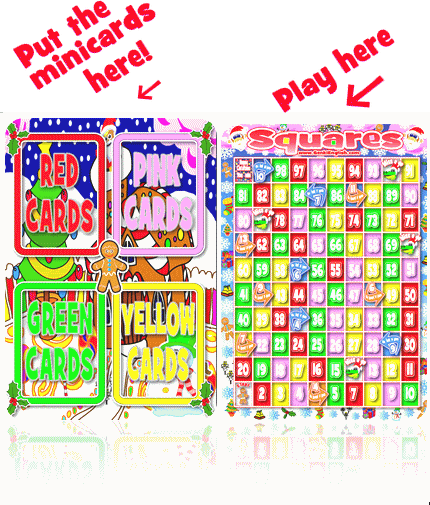 1. Place, face down, severalΒ 

mini cards

for themes you wishΒ to review on each of the large coloured squares.

2. Every player has a counter or token.

3. One player rolls a die (or two dice if you want the gameΒ to go more quickly.)

4. They move their counter that number of spaces.

5. When they stop their counter on a square they pick up aΒ 

mini card

from the same coloured large square.

6. If they can say the phrase/word on the mini card theyΒ can stay there. If not they have to move back to where theyΒ came from.

7. Watch out for the bonus "go back" and "go forward"Β cards.

8. First person to land exactly on the Merry ChristmasΒ square is the winner!

Of course the Christmas lessons are the best ones to use here.
Which will you chooseΒ colours, shapes, prepositions, body parts, winter clothes, decorations or any of the others?
(Wow, there's almost a wholeΒ curriculumΒ of Christmas topics!)
Do let us know what you think of the game in the comments!