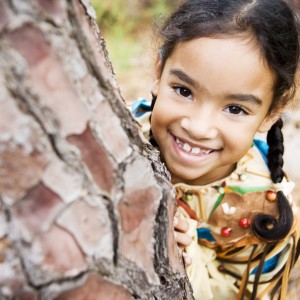 Smiling, happy pictures of your students are really important to show on your brochure, website or even sign boards.
Smiles always make people happy. 🙂
So I'd always recommend getting permission to use photos taken at events, in class etc. in the initial contract that parents sign.
Of course if you don't get permission, things can get a little tricky!
For example during the summer Leigh wrote in to say that one of the parents didn't want her child in photos on the school's Facebook page.
Leigh asked if there was any way around it.
Luckily there are a few ways.
I figured they might be of help to you too, so I'll put them up here:
Hi Leigh,
Ah yes indeed, this can be terribly frustrating the first time!! 🙂

No worries though, there are plenty of ways around it.

Getting them to give permission at the beginning is the best way.

But some parents will always refuse permission, and sometimes with very good reason (e.g. they have run away from an abusive father etc. and don't want him to find where they have moved to.)

So what public schools or the press do is to make sure those kids aren't in the shot when photos are taken.

Usually the kids will understand and be used to hiding away at the side.

And for the photos you have now …. your new best friend is going to be Photoshop! (Or one of the free online alternatives)

You can either crop the photos to cut the kids out, or blur their faces, or even swap their face for someone else's (tech is amazing these days)!

(One more "fun" approach is to put a mask on their face, but I wouldn't recommend that as you can still see their eyes and all the other kids would want masks too.)

One other thing to think about too is blurring out name tags if the kids are wearing them.

It is a little fiddly, but if you think of the reasons why then it is worthwhile the little extra effort!

Be genki,

Richard
Leigh was very happy with the advice, rang all the other parents to make sure it was OK (28 out of 29 were happy with the photos!) and put all their smiley faces on their Facebook page!
Hope that helps,
Be genki,
Richard
P.S.  Also be careful if you are uploading photos taken on a cell phone or modern digital camera.  There's a fair chance that the exact GPS data of where the picture was taken is also included in the file.  You can usually get rid of it by editing and resaving the photo, and Facebook do say they don't make the data publicly available (yet!), but just be aware that there is a possibility that anyone can see the exact address the picture was taken at.  Of course if it's your school, that's great, but for pictures at home you might want to be at least conscious, if not careful about it.  Having said that, don't let it put you off, sharing memories with students and their families is one of the most important things a school can do!
P.P.S.  One other compromise is to shoot photos from behind the kids.   It still looks good, but of course you don't get the all important smiles!