The Fruits Menu and Drinks Menu Games have proved really popular, but you can of course do the same game with any topic.
For example, how about this Halloween/Colours/Candies versions?
1. Make sure the kids know the colours ( Pirates with the Coloured Beards is the best way at this time of year!)
2. Put up several picture cards of different coloured candies on the board.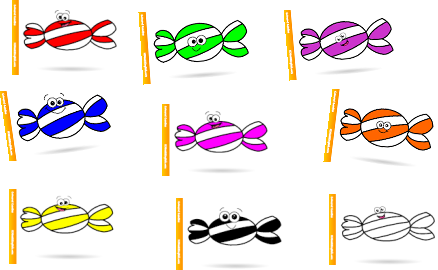 (I'm in a nice mood today, I've made some up for you, hope you like them!)
3. Next to each candy write a price.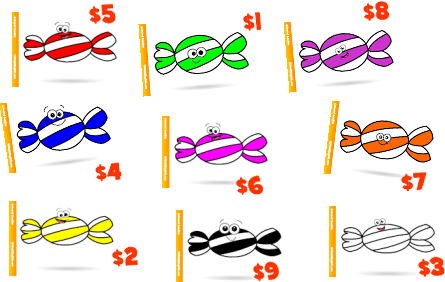 4. Put the kids in two teams.
5.  The kids ask "What would you like?" or "Trick or Treat"  or whatever question you are teaching.
(At a push, if you have to teach the Hi Friends! textbook, you could always use their "What do you want?" phrase, although I always cringe at such impolite English!)
6.  You say "I'd like …. " plus several coloured candies,  e.g. I'd like a red candy, a blue candy and four purple candies.
7. The kids look at the prices of each candy, totally up the numbers and shout out the total price in English!  The fastest gets a point for their team.
8.  Repeat from step 5, this time the kid who got it right gets to chose this time!
I've been trying this out over the summer and it's been great.
The trick is to keep the maths tough – remember the average elementary school kid has much better math skills – because they do it everyday – than the average adult. 🙂
You could also bring in the "How much?" phrase if you've done that lesson before.
Or next month you could try with "What would you like for Christmas?" with prices next to each present!
Do let me know what you think in the comments,
Be genki,
Richard
P.S.  You could even do this with the transport theme or even the Halloween costumes theme.
P.P.S.  I've just added more Halloween Games to the main Halloween page!