Here's a great game I heard from Nigel at the ACET meeting on Monday which goes great with vol. 10's Trick or Treat cards!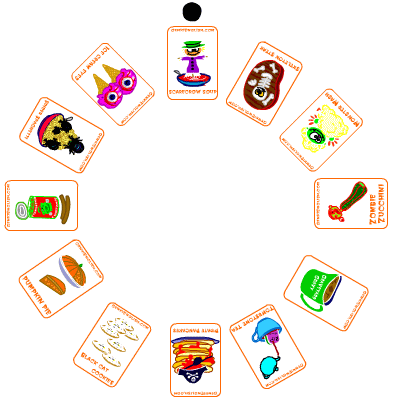 1. Put 12 picture cards in a circle.
2. Put a mark or object to assign the "12 o'clock" position.
3. Shout out either one of the cards OR shout out a time.
4. If you shouted a card e.g. "Pumpkin Pie" then the kids have to shout "8 o'clock" as it's in that position.
5. If you shouted a time, e.g. "10 o'clock" the kids have to shout out "Spider Spaghetti"
6. The fastest kid to answer correctly gets a point for their team!
7. Repeat from step 3.
The cool thing is that you keep moving the marker to adjust where the 12 o'clock is. e.g. if "Monster Mash" had the marker and you shouted out "4 o'clock" the answer would be "Pirate Pancakes". It's great to get older kids thinking!
Or even better you can do a mash up between CD6's "Happy Halloween" and CD9's "Winter Clothes"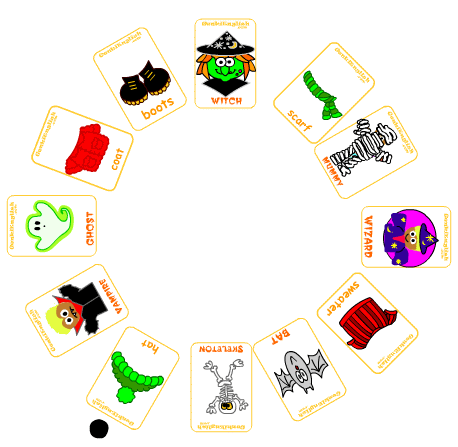 1. Put half the of the cards as Halloween creatures.
2. Put the other half as items of clothing!
3. Assign one of the cards as the "12 o'clock" position.
4. Say a time.
5. This time the kids have to make a sentence using the two items e.g. the ghost is wearing a hat!
Of course you can do this mixing up any of the themes to get the kids creating any sentences!
What would your favourite combinations be?