A very nice lady came up to me in Starbucks today saying how she'd just bought the Teacher's Set and was now relocating to Tohoku, Japan to help the tsunami damaged communities up there.
But … she said she was a bit overwhelmed with all the Genki English material and didn't really know where to start!
Ah… I know the feeling! Β With everything I've been adding over the last few years it has got a bit crazy on the site!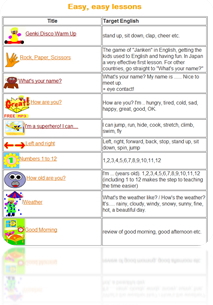 So, here is the easy way to do it ….
1. Head over to the curriculum page.
2. Part way down the page you'll see the list of Genki English themes in the best order to teach them.
3. Pick out the first 2 or 3 themes only, click through to them and read the lesson plan / watch the videos.
That's it! Easy. There's no point trying to read all the lesson plans yet as that would be far too much. Β Just try the first 2 or 3 e.g. Genki Disco Warm Up, What's your name?, Superhero etc. and try those in class.
Once you've seen them in action it makes a whole lot more sense. Β Then you can simply read up on each new lesson as you come to teach it. Β That's actually exactly what I do myself.
Remember baby steps, keep it simple one bit at a time.
And of course before you buy I'd recommend everyone to have a look at the Basics Workshop video. Β It will give you a good head start in how to do Genki English!
Does that help?