Two games for you today, one really simple, one really hard! 🙂
Pick it up!
This first one is very simple, and it's an idea I got from Nigel at the ACET meeting last week – Thank you!
1.  One kid puts on a blindfold.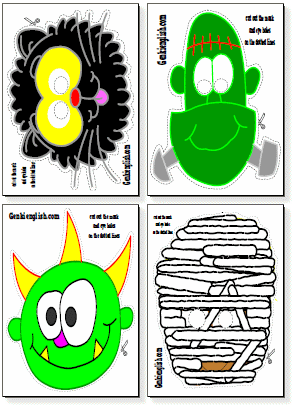 (Or a Halloween Mask as long as they can't see!)
2.  Their team mate passes them an object e.g. a Halloween toy (spider, frog, wand etc.)  or even a sponge letter.
3.  Just by feeling it, if they can name the toy, or say the letter sound in English they get a point!
Nigel also suggested using matchbox toy cars for things like transport or even "police car", "ambulance" etc.!
Then we have …
Who is in the … ? card game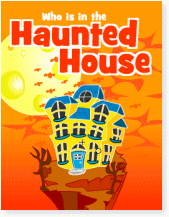 OK, this one is hard, very hard unless you play card games yourself!
But the boys love it, so if you are up for a challenge, here we go ….
1. Teach the "Who is in the Haunted House?" song and "What do you want to be for Halloween?" song in previous lessons.  If not just make sure the kids know the English phrases really well.
2. Print out one set of rooms of the Haunted House mini cards and one set of What do you want to be for Halloween?mini cards. You can of course use your own cards, or the Genki English ones are here and here.
3. Secretly put one monster and one room in an envelope and keep it at the front of the class.
4. Hand out the remainder of the mini cards to the kids. ( Put them in groups for large classes). Everyone keeps their cards secret!
5. Ask the kids a question reviewing previous weeks'  English.
6. The group who answers correctly get to guess what is in the envelope. For example they say "Is the vampire in the dining room?"
7. If a group has either the vampire or the dining room they shout out "No!" ( because of course if they have the card it can't be in the envelope!) The point is they don't say which of the cards they have, so you only know that it is either the vampire or the dining room.  You see how the strategy works here?  🙂
8. Continue from 5 until the envelope contents are figured out!
If you have boys in the your class, just try this game, even if you don't get it yourself, they will love it, plus it is lots of English!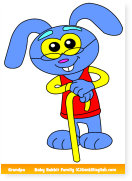 Or you can of course do a non-Halloween version, by using the regular rooms of the house cards and the rabbit family cards to ask questions like "Is Dad Rabbit in the kitchen?" etc.
Which game are you going to chose?
Do let us know in the comments!
Be genki,
Richard