Wow, not just one but two brand new printable pdf picture books for you today.
I've literally just finished them (after my niece requested extra pages!),  so any comments/feedback is much appreciated.
As usual these are part of the VIP members area.
If you're not a VIP Member yet, to join grab your Download Pack today.
Ok, here we go…
Funky Fun Grammar Picture Book: Irregular Past & Baby Dinosaur
The first one is part of the upcoming grammar lessons, an irregular past tense verbs book.  (Bit of a mouthful that!)
Featuring the brand new Baby Dinosaur character (do let me know what your kids think of him/her!)…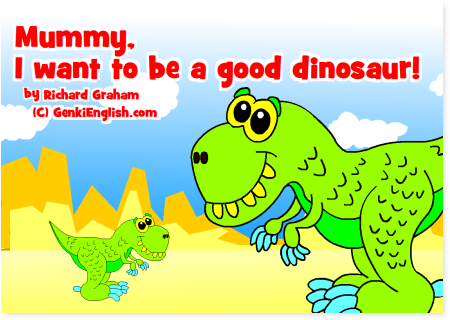 And of course it has a twist at the end. 🙂
This is the International English version (with "Mummy", "pyjamas",  "have a bath" etc.)
If any of you would like a US version (with "Mommy", "pajamas", "take a bath" etc.) then let me know in the comments and I'll see what I can do.
Of course if any Brits would like me to *not* make a USA version, feel free to fight away in the comments! 🙂
(No theme for this yet, but there is a song demo over on the VIP forum.)
Next is ….
Don't forget … & Summer Clothes
The ever popular Grandma and Baby Monkey return for  "Don't forget …." to go with the Summer Clothes theme.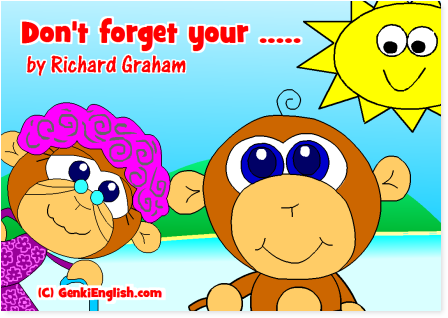 As usual it's very fun (gotta dig the beards!) but this time there's an "not happy" end!
I think it's justified though.
Do let me know if you like it.
And if enough of you request it in the comments I'll see about adding it to the Summer Clothes software.
Cool, that's me done for the day, enjoy the books & I'll see you tomorrow!
Be genki,
Richard