Here are 3 quick "go to" games for Halloween that work a treat!
The first one is the Nemo "What can you see?" Game – but this time the kids say "I can see a vampire" etc. instead of sea monsters! Lots of fun for younger kids.
Here's the video of the game in action with the original "Under the sea" version:
1. The kids mime swimming around in a circle in the middle of the class.
2. If you have lots of kids ( say 30 in a class) then have two or three concentric circles, one inside the other. Each circle swims in opposite directions.
3. The kids shout out "Nemo, Nemo, what can you see?"
4. The teacher, who is Nemo, looks outside the window and shouts out "I can see a …." plus one of the halloween words from the song.
5. Whilst still swimming the kids repeat the answer and do the mime.
6. Continue from 3.


7. But… if the teacher says "I can see a vampire!" Two kids, who were hidden outside, rush into the classroom from different directions.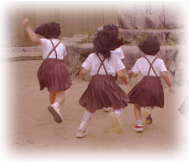 8. The other kids all rush to touch the wall of the class, where they are safe.
9. If any of them are tagged by the vampires on their way to the wall, they are eaten and become vampires for the next round.
10. Continue from 3.
.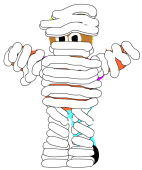 Next is the "Harry Potter it hurts" Game,
You simply play the Harry Potter Game usual, but this time instead of using "What are you doing?" you link it in with the Doctor, Doctor Body Parts lesson.
1. So this time the Voldemorts catch the Harry Potters and say "Your …. hurts" e.g. "Your arm hurts"
2. Then the Harry Potter holds this body part!
3. When the free Harry Potter comes along they ask "Are you OK?"
4. Then the reply is "No, my …. hurts!"
I tried this out a couple of years ago and it works really well, especially with older kids.   Have a try and see.
(Or you could try the Halloween Harry Potter version to go with CD6's Happy Halloween Song.)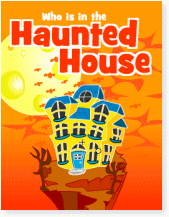 3. Finally we have Trick or Treat Clocks which you can use with any of the Halloween Themes ( Who is in the Haunted House?, Trick or Treat, Where is the spider?,  What do you want to be for Halloween?, Happy Halloween & more ) or the Winter Clothes song.
Hope that gave you a few ideas of extra language to teach during Halloween!
Do you have any favourite games for Halloween?  I'd love to hear them in the comments!