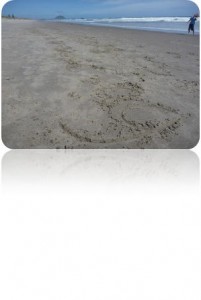 It's strange being back in Winter. Last week it was Summer (checking out more schools in New Zealand)
I was also doing the Genki Phonics poster course with my nephew. Β It's the first time I've used it one-on-one with an English speaker and it was so cool to have a surfer-dude five year old rush in each morning saying "can we do more learning please?!"
We probably knocked his reading age up by a good 6 months or so.
He was also wanting to do phonics on the beach (!) so we …
1. Wrote up all theΒ graphemesΒ (letter or letter group) he'd done so far,
2. Shouted out words (sometimes emphasising the phonemes like "sh – ar – k" )
3. Ran to each grapheme in turn.
Warning, don't try this racing against kids unless you want to get really tired really quickly!
I guess you could also try it in the snow!
P.S. Β The Phonics CD is being retired very soon (it's beenΒ supersededΒ by the Β new posters), once the CD stocks go it's gone forever!
P.P.S. Β If you're lucky enough to be in Summer, check out the Summer Clothes lesson (free download till the end of the month) or for the rest of us the operaΒ Winter Clothes lesson from vol. 9!