Lesson 9: How old are you?
Ninja Tip: Β This video is from my online workshop videos. Β You can see the rest here.Β  We don't have CDs anymore, you can find the song in your digitalΒ Teacher's Set.
Lesson Plan
In the video above I mention the "Lines Quiz" Β If you're feeling confident, do add it in.
Otherwise stick to quickly running through the language we've done so far, asking them all the questions:
Play 2. Β Rock, Paper, ScissorsΒ ask 3.Β What's your name?Β + My name is ….. & Nice to meet you, 4.Β How are you?Β + several of the answers
5.Β 


Β 
6.Β Left, right, forward & back. Β Plus the Left & Right song.
7. I am, you are, he is, she is, they are, we are, everybody is …. gesture a person and a "How are you?" emotion and the kids make the appropriate sentence.
8. Jump whilst singing the numbers 1 to 12. Β (Try stopping at some point and the students say just one more!) Β  + Review the numbers song from last time.
Introduce the new phrase "How old are you?"
Get the students to guess what it means.
Then go through the mini lesson and song on the Teacher's Set software.
In the song clap at the end of each chorus, hold up fingers for the verse and jumps on the second verse e.g. check out the adults in Thailand!
Or with kids here!
Ninja Tip: Β On the software there are several different versions of the song depending on the age of your students e.g. 1 to 8, Β 5 to 12, or 13+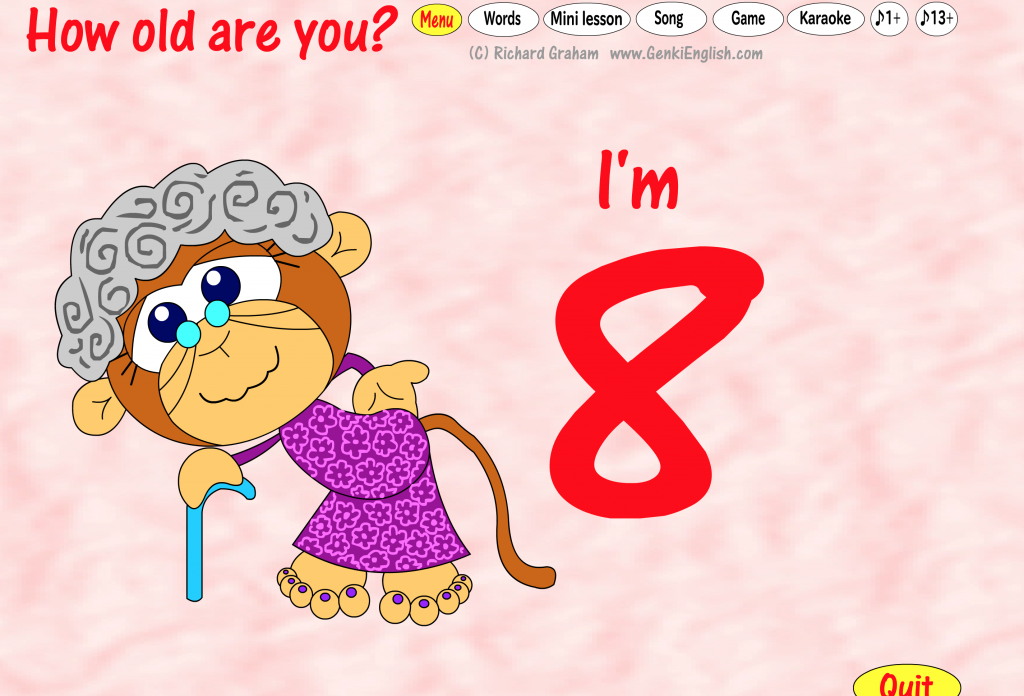 For a quick, no preparation bit of practice you can't beat "Mingle"
1. Sing the "Mingle, Mingle" chant. Β ( See the video above or below)
2. When they stop everyone says "How old are you?"
3. Β You say "Sorry?" a few times to get them to say it louder.
4. Β Then you say an age.
5. Β Everyone has to get into groups of this number e.g. if you say "I'm four years old" then they get into groups of four!
Or if you are up for a bit of prep work then you can't beat ….
or …. Genki English Bingo – It's very different!
Traditional bingo is crazily popular, but doesn't provide much English other than a touch of listening.
With this Genki English version the students get tons of English speaking practice but still love it because they get to play bingo at the end!
Part A:
1. Give each student a piece of paper.
2. In the middle square they write an age. Not their own age, but any age between 1 and 12.
Ninja Tip: Β If the students are all tending to write the same age, either ban their actual age or use dice to choose.Β 

3. They then go and ask their friends "Hello,Β how old are you?"
4. The friend responds by saying "I'm… " and then the age that is written in their middle square.
5. The person who asked then writes this age in one of his/her vacant places on the worksheet.
6. If they already have that age written down they must pass and go and find someone who has a different age!!
7. The game finishes when everyone has filled all 9 squares.
Part B

1. Everyone sits down in their seats.
2. You play the song and as you do the students pass a ball around the class.
3. When the music stops everyone asks the person with the ball "how old are you?". And that person answers with the age they have in their middle square.
4. If anyone in the class has the age they cross them out on their bingo card.
5. The first person to get 3 in a row wins!! (Or whichever bingo rules you wish to choose!)
6. Do theΒ "How old are you?" song againΒ to finish on a high!
"How old are you?"
by Richard Graham

How old are you?
How old are you?
How old are you?
How old are you?
How old are you?
How old are you?
I'm 5 years old,
I'm 6 years old,
I'm 7 years old,
I'm 8 years old,
I'm 9 years old,
I'm 10 years old,
I'm 11 years old,
I'm 12.
I am 5! I am 6!
I am 7! I am 8!
I am 9! I am 10!
I am 11! I'm 12!
Bonus VIP Printables
If you have theΒ Teacher's SetΒ you can also download these extra printables
A4 Flashcards
(What's this?)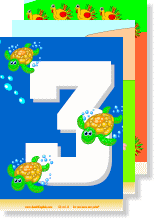 Mini Cards
(What's this?)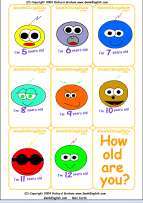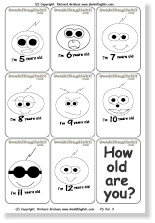 1 to 8 version: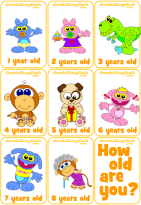 Worksheet


Printable
Lesson Plan
(What's this?)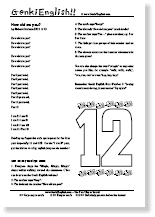 English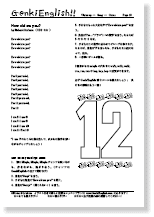 Japanese
(give to class teacher)
Dominoes
(What's this?)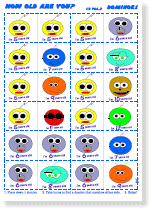 Dice Game
(What's this?)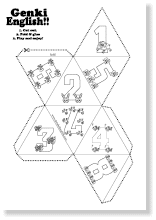 SpaghettiΒ Game
(What's this?)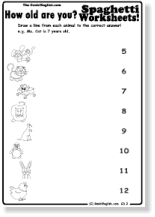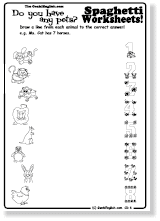 Islands Game
(What's this?)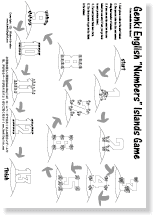 Snakes & Ladders
(What's this?)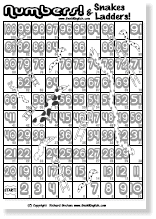 Bonus: See for yourself!
If you want to see what it really feels like for students learning this way, try learning some Japanese with the version below!