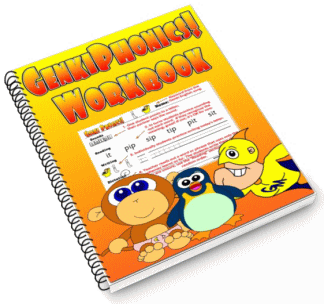 vs.
If you're a teacher you want the best for the kids.
And you also want the easiest programme to teach.
So whenever I do workshops, everyone is often surprised that whilst I say that Genki English is the best speaking programme in the world,   
I always say that Genki Phonics isn't the best reading programme.
Until now I've always said that Jolly Phonics gets that crown.  (I hope Chris Jolly is reading this! 🙂 )
The reason is that in our interventions in Hyderabad, Delhi & Beijing we've used Genki English for speaking and Jolly Phonics for reading.
And the results from using Jolly Phonics have been stunning.
Absolutely stunning.
With huge increases in children's reading ages.
It's been amazing.
More & more
During that time, thanks to all your feedback,  Genki Phonics has also been developing.
And for this year's Tanzania intervention, as we couldn't get hold of enough Jolly Phonics materials as they are quite pricey, we actually went with Genki Phonics instead.
And the results have been amazing too,
"At the beginning of the course they couldn't read a single sentence, but now they can read a book"

Tanzanian volunteer teacher (2012).
(That's my favourite quote!)
Then last month in India we were back to training Jolly Phonics once again.
And after doing Genki Phonics, I think Jolly Phonics has lost its crown!
So why is Genki Phonics better?
In one word – hassles!
I just love things that are easy to teach.
I want a nice, clean, efficient classroom where everything works, is easy to put away and is all there when I need it.
Genki Phonics certainly fits that with having just one set of A4 posters for the whole course.

But Jolly Phonics …… for Jolly Phonics you need not only their "Big Books" (which *are* really cool) but you also need individual flashcards for every single letter, and for *every*  *single*  *word* you are going to use.
And to be honest they are a real pain!
Sorting them out after each lesson takes forever.
They also get mixed up and after just two days we were missing cards.
Which means we couldn't do the lessons.
It drove me crazy!
Super Speedy!
For most teachers how long it takes to learn how to teach a new system is also really important.
Even if it's the best thing since sliced bread, we're all really busy and don't have the time to invest in huge long training programmes.
We usually take a full couple of days to train teachers in how to use Jolly Phonics.
And they pretty much get it in the that time.
But with Genki Phonics we've got it down to just one afternoon.
(Or actually 10 minutes if you watch the video online!)
And there's more …
So all that combined with a few other small things mean that to be honest I totally believe that  Genki Phonics is now actually the better option.
Jolly Phonics isn't bad, not at all, but from a simplicity point of view, I'm now going to recommend Genki Phonics as the course to go for.
Of course I wrote Genki Phonics and am terribly biased, and we're still looking at improving it, but I would much rather recommend something else  if it *truly* is better (for example I still recommend Oxford's "Read, Write, Inc" for post-phonics writing) but for the moment, if you want the best phonics programme in the world, I think Genki Phonics has to be it.
Do give it a try and let me know if you agree.
VIP members get it free, or it is just 10 bucks to try at home.
I think you are going to like it and I think it is going to open the door to fluent reading for a whole new generation of kids.
I'd love to hear your thoughts in the comments!
Be genki,
Richard
P.S.  And all of this is even before we've finished Genki Phonics 2.0!