First of all I would like to say a huge "Thank you" to all of you who emailed and commented last week. I was really blown away with how much loving support you all gave me.   It was such a pleasant surprise.  And it has made such a difference.  Thank you so much.
I couldn't resist the Christmas fun entirely though, so here are a few last minute Christmas party games. And I'll also try this week to upload some of the Christmas songs I was hoping to bring to you. They won't be finished, but we might be able to make them into something for next year.
Here are a few little Christmas party games, just in case you have a need for some last minute ideas…
Double want for Christmas
=====================
A variation on the "Pink Fish" game. Put two sets of Christmas picture cards on two tables at opposite ends of the class. Everyone shouts out "What would you like for Christmas?" One kid from each group runs to one table and picks up a card, then to the next table and picks another card. Then they come back to their group and shout out "I'd like a ….. and a ……" whilst holding up the two cards. Quickest team is the winner.
Snowball Wipeout!
===============
Put some Christmas picture cards on the board. Behind each one secretly put a post it note with a number of points. The kids choose one of the cards (use whatever level English you think they can do). You turn the card over and they get that many points. But if it says "Wipeout!" all their points are lost!
Buy me!
=======
This is a fun game we had on the blog the other day. Put up some Christmas picture cards on the board and write a price under each one. You shout out a price and the kids shout out "How much is the ….." with the name of the correct card.
Tower of Presents
===============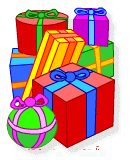 Based on the "Tower Game". Wrap some big, huge empty boxes as presents. Ask the kids a question based on some English they've done this year. The quickest team gets to pick a box and use it to start building a tower of presents! The tower gets higher and higher, but if it falls that team has to start again from the beginning. The oversized presents also make great decorations for your party.
Baby Santa put on your ………….
========================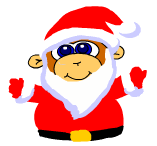 Review the Baby Monkey Winter Clothes song. Then use the karaoke version to change the words to be "Baby Santa put on your …." Then play a game with Santa outfits, you say "Baby Santa put on your …" and the kids have to race to put that item of clothing on! You might want to change "scarf" for "beard".
Plus of course it's great to finish off with lots of Genki English Christmas songs, all of which you can find on the main Christmas page of the site at https://genkienglish.net/Christmas.htm
Thank you,
Richard