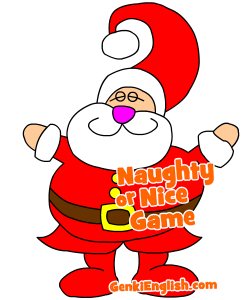 It's officially Christmas time, so it's time to break out the Christmas games!
This one was originally sent in by Amy.
Preparation: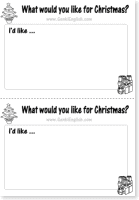 1.  Teach the What would you like for Christmas? lesson (and good luck getting the song out of your head afterwards!)
2.  Get the kids to think about what they'd like for Christmas.
3.  If you've done writing then they can write down "I'd like …."  or use the worksheet on this page to use pictures instead.
4.  Whilst they are doing this, grab a paper cup and fill it with lots of bits of paper with either "naughty" or "nice" written on them.

4.  Then either you, or better still a co-teacher, pops outside and jumps back into the classroom dressed as Santa!
Ninja Tip:  Obviously a full costume is better, but even just a Santa hat is cool! 
The Game
Do a bit of a self intro for some extra practice e.g. asking the kids to guess what your name is (Santa of course!), where you're  from etc.
Then we do a modified version of the Lines Game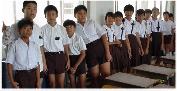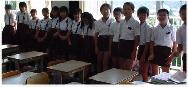 1. Put the kids into two long rows.
2. Everyone asks "What would you like for Christmas?"
3. The front two kids each ask you (Santa!) what they'd like.
4.  When they've said it correctly they can pick a piece of paper from the cup.  If they get "nice!" they can sit down.
5. If they get "naughty" they have to go to the back!
6.  Keep playing until everyone has got "nice!"
Of course some kids will keep going round & round until they get to be "nice" 🙂
Ninja Tip:  Adding in randomness like this works great in motivating the kids as  otherwise the strongest kids always win.  Here everyone has a chance.
It's a great game so do give it a try and let us know what you think in the comments,   or check out more Christmas games here!
Be genki,
Richard
P.S.  Homework applications are now closed,  I'll be working through everyone's applications this week, but there are quite a few so it might take a few days.  Hope that's OK!