Hope you had a great weekend (and loved the fruits!)
Here's Mido's groovy game of the week just for you.
Teach today's lesson as usual. And then ….
1. Put today's A4 flashcards around the room. Β (On desks, not on the floor!)
2. Give each child a set of today's minicards.
3. Teacher says "Go!"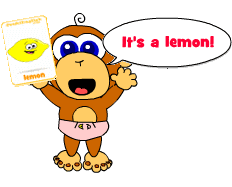 4. The kids have to race to each A4 card, hold up their corresponding mini card, say the English out loud then slap it down on the A4 card!
5. Time how long it takes everyone to get rid of all their cards!
6. Get them to do it all again – this time faster!
Why put the a4 cards on desks?
If you put them on the floor we'd have to call the game "Head Banger!" (and have a healthy supply of bandages ready!)
Also give a time penalty to the whole group if anyone puts down a card without holding it up high or saying the English.
No cheatingΒ allowedΒ here!
What lesson to try this with?
Well, how about these new fruits cards to go with the Fruit Market theme!
Enjoy!