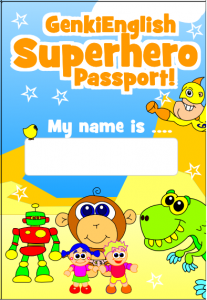 Giving kids stickers that they can put into a class passport – and then claim a prize when it is full – is a fantastic motivation resource.   I used to use it on some of my straight-after-lunch, tougher-to-motivate classes!
Ninja Tip:   Have a bag at the front with cool prizes they can win when they complete the passport.   And give each person a new – empty – passport when they fill theirs.  This gives everyone a chance to win a prize.  Also keep adding a few new prizes during the year,  presents from your travels are great!

Immigration Game!
You can also use them for this very cool review game ….
1.  Before the class all kids line up *outside*
2.  The teacher is the "immigration officer"
3. The kids have to try and gain access to the class by showing their passport to the "immigration officer" and answering their questions. Questions could be "What's you name?" "How are you?" "Where are you from?" "Where are you going?" "When is your birthday?" "How old are you?" "What do you do?"  or any questions you've studied before.
4. When the Officer is satisfied you let the kid into the country (the classroom!). Either stamping their passport, signing it or giving them a sticker!
5.  If have you have several teachers, you can have  them in a row.   The kids have to go round and gain entry to all the different places e.g. one teacher is England, one is America etc.   for extra practice.
Ninja Tip:  This is great for school events where parents can join in too!
The kids really get into this and it gives them a "real life" scenario to deal with. It also gives them direct conversation practice with the teacher. You should also vary the questions. Accusing someone of concealing guns or money is also quite amusing! 🙂
Spot checks!
Some teachers occasionally do "spot checks." They throw all the kids out of the class part way through and only allow them back in if they pass through "Immigration". The kids seem to like this!
Be genki,
Richard
P.S.  You can of course make up your own passports.  Or if you are a VIP Member I've made one up for you.  If you're not a VIP member yet,  order your Teacher's Set today and you'll be a VIP too! 🙂
P.P.S.  I'm also doing *personalised* versions for Genki Business course or Homework Program customers.   Just add a request to the Genki Business Facebook Group with your logo or add a message with your next homework payment and I'll be happy to make you up a personalised version like this: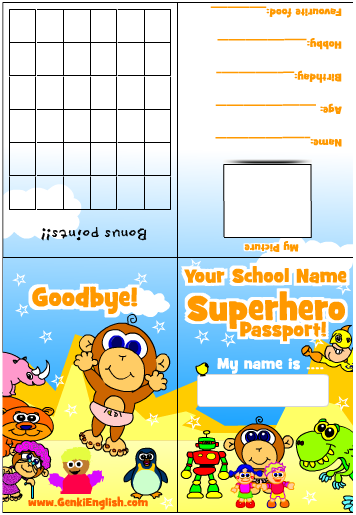 P.P.P.S.  No, I'm not doing it over the comments or emails, it's a bribe to get more of you onto the amazing Genki Business course and Homework Program 🙂