Here's a great Christmas Party game I just wrote up in this month's newsletter: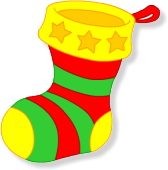 Pack a Christmas stocking with either real presents orminicards.
1. At one end of the room one child holds the stocking and asks "What would you like for Christmas?"
2. The other kids, at the other side of the room, shout out things they think might be in the stocking.
3. If one of the items they shout out is actually in the stocking, the first child fishes it out of the stocking, holds it up and says "OK!"
4. All the other kids chase after him/her!
5. The first person to touch the kid with the stocking gets the present and the stocking.
6. Repeat from step 1
It's crazy, but quite fun!