If you have a small private class and want a huge mega board game that gives you a chance of using lots of different language, we've got something very special for you today "Who is in the attic?" Christmas special!
Gumby has made this video that shows how to play it:
And here are all the game sheets, including the board, super mini cards, mini card holder and the check sheet.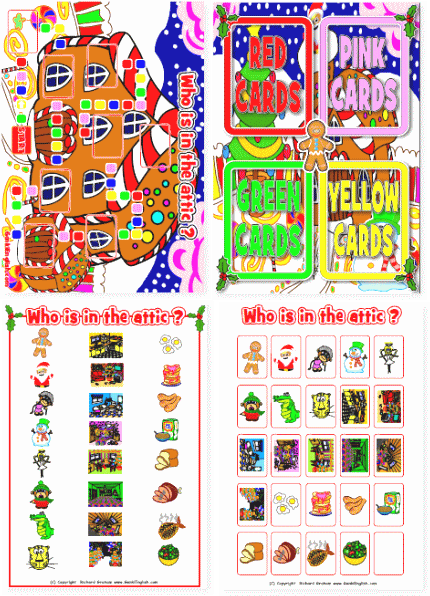 (Plus there is also a bigger version of the board here that you can play with any of the regular mini cards!)
As you can see with this particular version you'll need to have done the rooms of the house, breakfast and some of the Christmas themes first so the kids know the English.  Then they came come up with really long sentences like "Is Mr Tiger eating fish in the attic?"  And you can of course use any themes to put on the green, yellow, red & pink squares.
It's quite a complex game (you can see how we developed it here) and if you have any questions please ask them in the comments below, I'm sure the girls who came up with it will be able to answer any questions!
But it looks like it's going to be another big hit with the kids!