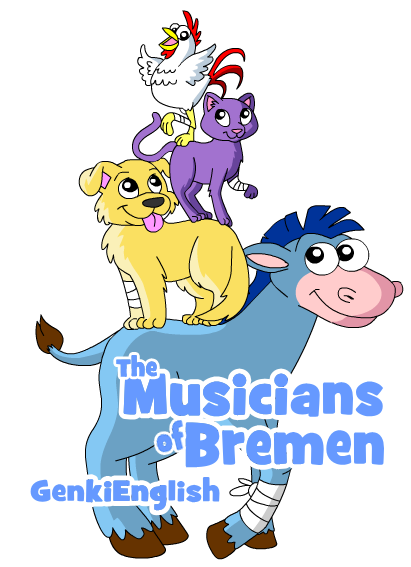 Ever since the huge success of the Gingerbread Man song we've been trying to find another simple, traditional story to Genki up and  let you combine lots of themes together.
Ninja Tip:  These work *wonders* for parent's day presentations!
Margit came up with this amazing one based on the Grimm Brother's story … The Bremen Town Musicians!
Now to be honest I'd never heard of this!  (Question about that below!)
But it has turned out to be a fantastic lesson to combine
I've put a funky chorus to it and it's turning into a very cool little lesson.
You can find it on the new Vol. 14 and in the Teacher's Set.
Here are the A4 Flashcards: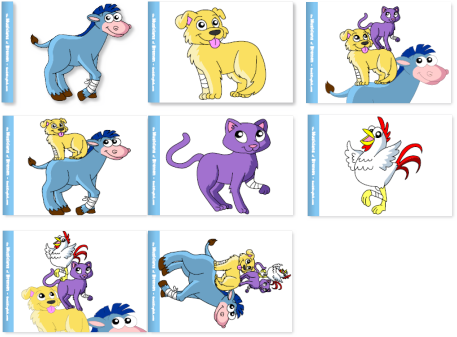 And Minicards: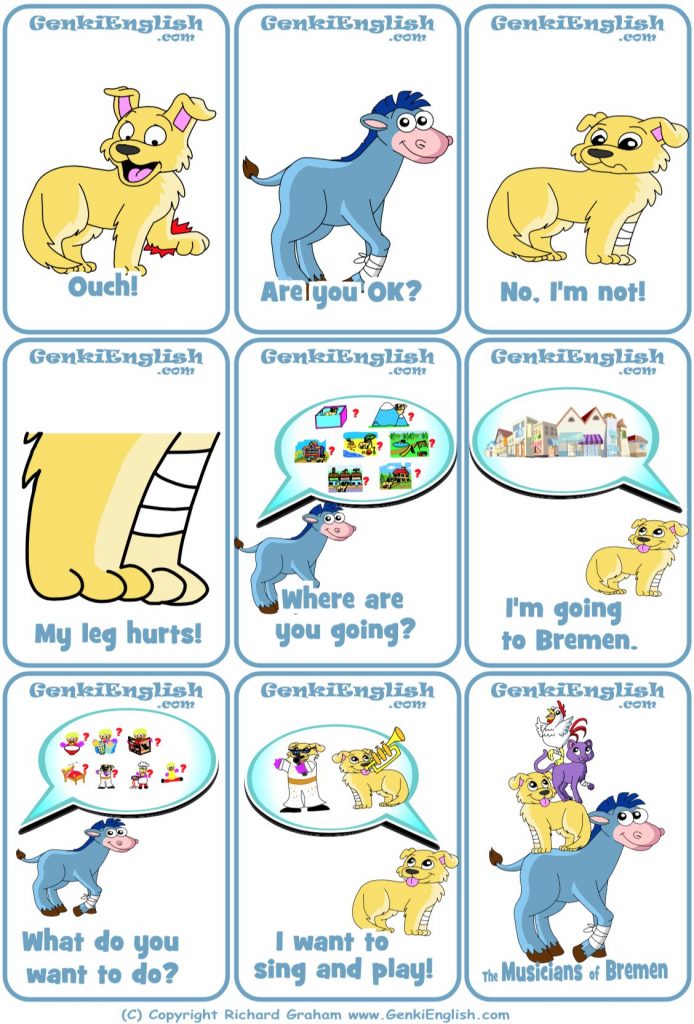 And the Evaluation Worksheet: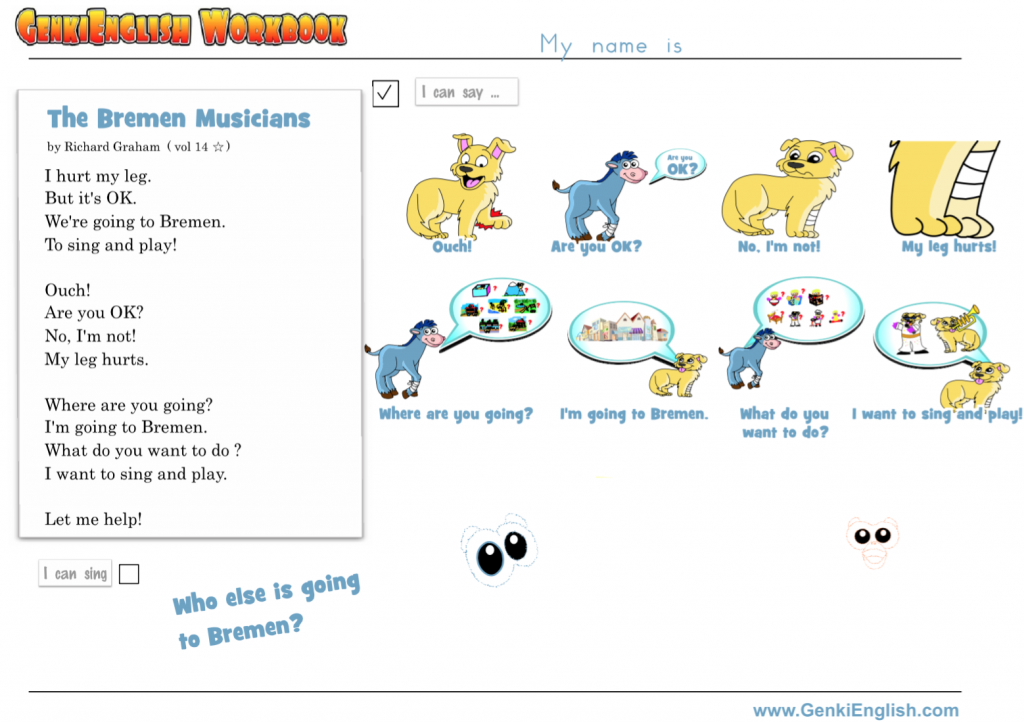 And from Margit, this is how you teach it …..
Now, THIS was amazing. A GREAT lesson.

I showed them the first picture and told them to ask this character as many questions as they could think of.

So they asked:

"What's your name?" (I said "Mr donkey" and they had some time needed to figure out the animal. Did you know Japanese kids don't really know donkeys?)

"Are you okay?" (they figured the leg right away of course.)

"What's wrong?" where I said "My leg hurts":

"Left or right?"

"Where are you going?"

"I'm going to Bremen."

Here one boy said "WHERE is Bremen?" (Wow! These kids have only just turned into 3rd grade.)

Not all could pick up on this so I asked "What stories do you know with donkeys?"

They said "Toy story, Pinocchio" and then one kid said "oh there is something with a cat and (another kid then: )a dog! oh! and a rooster, too. ah and burglars!

So, set!

Now, I sang the refrain of the song, said "Ouch" and slowly showed the second card, while saying "Woof Woof."

Then I had the donkey ask  "What's wrong?"

And from here they just asked and answered and did the whole conversation in just 2 minutes on their own.

The conversation with the cat and the rooster went even faster.

AMAZING, and they were so excited.

So, I even was able to tell them about the pirates and the king's treasure.  (This is the next part! – Richard)

Now, their comments were:  They found it a bit weird that the donkey looks so happy, though he had hurt his leg, but they answered the question themselves.

When I said "Yeah, why do you think he looks like this?"

"Oh, he is happy because now he doesn't have to work anymore, and he got a great idea what to do instead."

You know the exciting thing is that I really didn't have to teach anything but the words donkey and rooster.
Sounds pretty cool, eh?
So let's give it a try in your lessons and let us know what you think in the comments!
Enjoy!
Be genki,
Richard