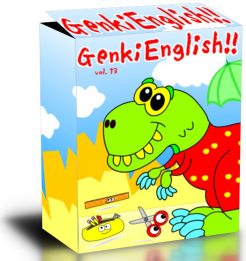 Hats off to everyone for the Herculean help the other day (and do check out the links to all the bonus goodies below!)   Thanks to your hard work everyone else can now get their hands on volume 13, I think you are going to love it!
Here are just some of the amazing comments we had yesterday:

I tried the new software and I have to say everything is perfect. I haven't found a single flaw with the software. I like that the themes have different kinds of games and I especially liked the rap versions of the 'i' song and the alternative versions of the songs- brilliant idea btw because they get to practice the song with different words, thus enhancing their vocabulary. I think this new volume is a great addition to your volumes collection and I strongly believe it will be a hit with my students! Love the graphics, the songs, the ideas….pretty much everything! Thank you for introducing "fun" to our job!! – Evaggelia

 Hello, Richard. I enjoyed every song.The games are stimulating and the graphics is great. Everything is perfect as always. And this Baby Dinosaur…he's just jaw-dropping:) – Marina


I have been using Genki English for 4 years now and my kids love it. I know it's a lot of very hard work but they have really changed my life and made my teaching much more fun ! Thanks for your precious help ! – Eveleyn

Genki English made my teaching so easy, kids love it and I just adore it.You gave so many things which help us to be creative and real teachers..Thank you so much!!! – Jasmina

I've just tried vol.13 and all I can say is that you did it perfect as always 🙂 I like the graphics, the songs and funny games. I love dividing the sport topic into summer and winter . I think my students will love it ! I can agree that this volume is a great addition to your volume collection ! Thank you for Genki English !!! – Gosia

Hi Richard! No words to express how amazed I am with genki method. Kids love it and so do I. Thanks a lot – You're the master of masters. – Ayari

Great going Richard! Couldn't get along without Genki English! – Patti

"May I borrow?" is becoming one of my favorite songs. So useful and so catchy. I like the past tense song a lot as well. That's something we all need to teach. Got a perfect tense song coming up? I love the Yes, I can! song as well. – Adam

I have been so thankful to you and your software here in China. The kids love it. I use it in all my classes, (even some adult classes). Once again, thank you very much!! – Rony

I went to the workshop in Tokyo last month. I had the opportunity to see part of your new material. Your presentation of some of your new lessons was awesome. I'm looking forward to use the new software. The best part is that you're introducing past tense in easy way for children to learn. A thousand thanks, Richard for your splendid work. – Cesar

I can't wait to use the "played" summer sports song with my classes on school starting after summer (We did the summer sports song before the vacation). I also appreciate the personal pronoun songs in whose is it and may I borrow your .. Essential vocabulary, but of course presented in your unique and Genki fashion, making it all the more a FUNdamental of the English Classroom. Thank you heaps. Andrew

Wooooow Genki English has the best music in ESL world – Liam

Just did an amazing summer camp using Genki English! – Zelda

Hey Richard, I went through the entire vol. 13, pushed every button, played every game … twice! No problems anywhere!
Thanks for adding the American English version of the Baby Dinosaur book. The classroom games are great.
My favorite song in this vol. is the 'Is it in… Hip Hop Version'. I've got a couple of cheeky little guys who are going to have a blast with that one! Thanks! – Bob

Amazing work. So far everything looks good. At first I was a little disappointed you didn't include the Summer Sports, but then I realized that the "I like Sports" button is TWO LINKS!!! CLEVER!!! Same with the "Stationary – May I borrow…" I'm assuming that on the "What did you do in the summer?" I played mix, that you deliberately threw in crazy objects for the badminton scene. It has the shuttlecock, but sometimes a carrot, watermelon, lemon, etc. flies in. This must be on purpose to just get the kids going crazy. Nice! – Martin

Just LOVE the what did you do? song. – Evelyne

I've been using GE for 3 months and it has totally changed my lessons! I can't thank you enough!!! – Liora
After so many months of hard work it is so nice to hear all these nice words – thank you all so much!
And here are the themes that everyone is raving about:
I'm sorry! – Excuse me & It's OK! with a Dance Beat of course!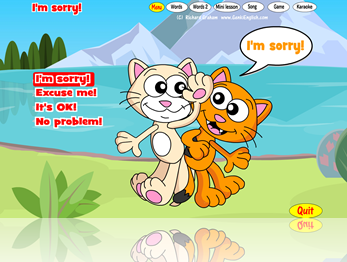 Stationery / May I borrow your … Set 1&2
(Two whole lessons, one with easy things, one more challenging!)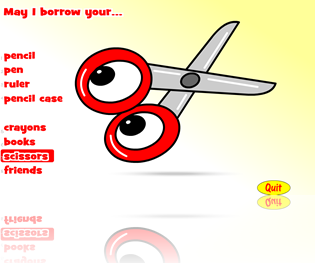 Whose is it? It's mine/yours/his/hers – all remastered and remixed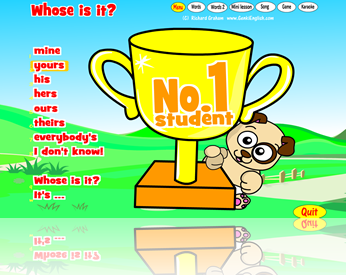 North & South – "s" & "th" pronunciation!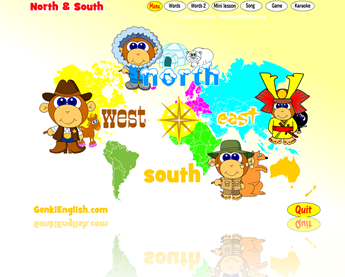 Winter Sports – it's the Winter Olympics next year! 🙂

great for "What did you do in the summer?"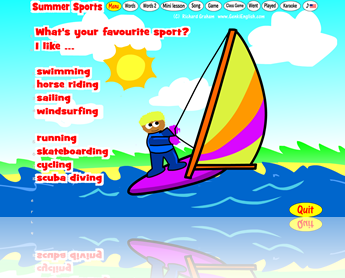 Where is it? Phonics "i" Lesson – so you can introduce phonics even earlier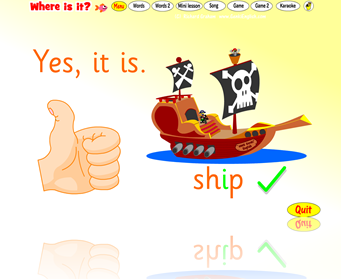 U U Umbrella Phonics "u" Lesson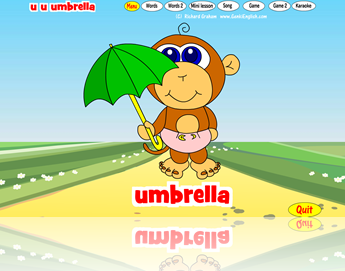 Super cute  Baby Dinosaur, what did you do? Irregular Past and Daily Routines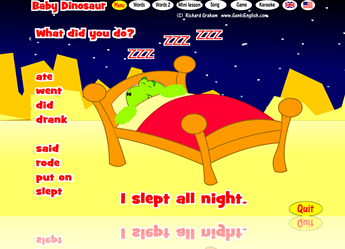 "I can do it!" and "Try again!" – you know you can! 🙂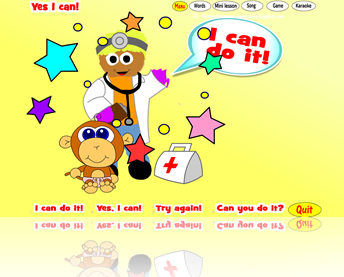 I guess now you can see why it took me so long to make! 🙂
Do check out the flashcards & minicards for all the themes above and I'll be adding all the extra worksheets on a first request – first to be made basis – i.e. get your requests in the comments and I'll make those up first.
UPDATE:  First request was for the Evaluation Sheets – here you go!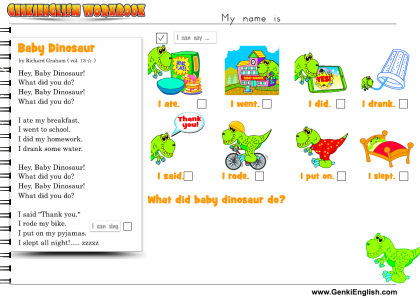 Many of the pages above also have recommended games to give you full lesson plans and I'll also be featuring many of them in upcoming posts with more games and ideas so do keep your suggestions and feedback coming in if you've tried them out yourself.
There is of course a VIP discount for volume 13 and I've also put a special time limit extra discount for those of you don't have volume 12 yet either.
And if you're not a VIP member yet, there is a special "Deluxe Edition" of the Teacher's Set that now includes vol. 13.   The Teacher's Set prices are all going up on August 31st so now is the time to join us!
Finally, just one more  huge thank you to everyone yesterday for helping me, it seriously reduced my stress levels (you can't imagine how many times I've played each of these songs!) and it was amazing to see so many old and new faces.
Please do stay in contact on the VIP Forum, that's where a lot of these ideas first started out as request from teachers just like you and I.
OK, I'm packing this weekend for my flight to Europe next week where I'll be on tour in Russia in September – do join us for the workshops (although the Yaroslavl one is nearly full!) it's my first time there so it should be lots of fun!
Enjoy volume 13 & Thanks again I'll finally be able to relax on the plane now – you are all super heroes!!
Be genki,
Richard